24 Jan

Fit February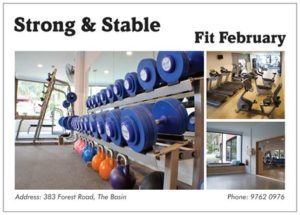 Have you got some big goals for 2017?
for example: get fit, lose weight, do a run run, get rid of your back pain, manage you diabetes, get back to work after illness or just be more healthy?
If so why not give your goals a boost with some 1:1 training sessions this February
Benefits of 1:1 Training
Individual supervision allow for constant technique review and adjustments
Consistent exercise program, which is adjusted by our highly trained staff based upon your energy levels, stress levels, mood and pain
Weekly review of progress towards your goals
Motivation to help you achieve your goals
Education on specific training techniques and plan
Personal Training Sessions 
1 x 1 hour session $55
5 x 1 hour sessions $250 (save $25) 
10 x 1 hour sessions $500 (save $50) 
*Note: 5 & 10 pack sessions paid upfront, however no time limit for use 
Exercise Physiology Sessions 
Initial Assessment (1 hour) $75
Review (1 hour) $70
*Exercise Physiology is suitable for clients managing a complex medical condition 
*Medicare and Private Health Insurance rebates options available for select clients 
Give us a call today on 9762 0976 to get started.