25 Oct

Our Journey

Written by Daniel Lowrey, Accredited Exercise Physiologist

Each & every day we connect with a range of people, the vast majority of which have no significant impact on our lives. But sometimes on a rare occasion we come across people who leave a long lasting mark on our lives for whatever reason – love, knowledge, life experience and sometimes inspiration! 

To often we look to the rich and famous for motivation and inspiration. Whether it be a sporting star or movie celebrity. We seldom look around us and recognise what everyday people are achieving on a regular basis! 

On Sunday 16th October 2017 I was lucky enough to be a part (extremely small part) in yet another chapter in what is also an impression story book! Mia and I began training 10 years ago. Now, At the young age of 24 she has not only completed a double degree but has a resume of achievements including Oxfam trail walker (100km); 2 x Full marathons and several half marathons!

For some, exercise is enjoyable and an outlet, for some it's about proving people wrong and for other i.e. Mia – it's about taking her body completely outside of its comfort zone and pushing it to its limits!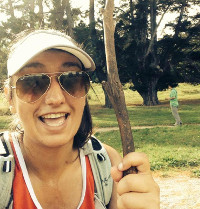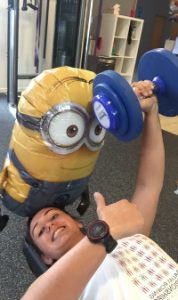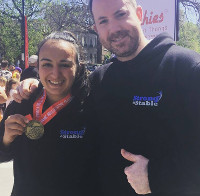 On Sunday 16th October 2017 Mia completed her second Melbourne marathon. I met Mia at about the 31km stage and while completing the first 30km in a personal best time – the heat was starting to take its toll! Hot, exhausted and in pain Mia pushed on – with her big brother a few steps ahead and now her mentor by her side feeding her hydralyte! 
Not only did Mia complete the marathon but she smashed her Personal best time by over 10 minutes! Not a bad achievement for someone with limited preparation! 
Steve Moneghetti once said that running a 5hr marathon time is significantly harder than running a 3 hours time! The mental toughness required is beyond belief and the pain can sometimes be unbearable.
Mia's attitude has always been something I've admired.
When people ask Mia "hey lets go for a run" or "Hey, lets do Oxfam" Mia's responses is always the same. She laughs and then says "sure why not" and then "ok let's get this over with". Not once in 10 years have I seen her quit, give up or say something is too hard! If she falls – she gets up (and usually laughs). Her attitude is infectious! It inspires you to continue and never give up! She has proven time and time again that you can do anything you set your mind too.
The marathon was a fantastic effort for this short but stubborn and determined young women. I'm sure there are going to be many more chapters in her already amazing story book!
But for now – a well earnt rest!
#livingthedream
#strongandstable
#strongersmallerandstabler
#stillfaster
#sheisawesomebutshort