20 Mar

Prevent neck, back and wrist pain if your work requires sitting for long periods

Written by Frankie Gargaro, Osteopath

Are you someone who:
Has a desk that's too low for your height?
Sits on an uncomfortable kitchen or dining chair?
Has a keyboard that makes you curve your shoulders?
Sits at a desk between 5-6 hours per day?
These can all lead to increased pressure in your joints and muscles in your neck, mid and lower back.
It's time to find the right work ergonomic station for you.
Sitting at a desk in front of a laptop or monitor is becoming more common as people continue to work from home post the COVID-19 pandemic.
A safe, ergonomic workstation intervention may be a practical management option to prevent or reduce pain.
Here are 5 quick and easy tips that to reduce pain whilst sitting at your desk:
1. CHAIR
The best chair is one that is adjustable so that it supports the natural 'S' curve of your back.
Your desk should be at the height of your elbows when your hands are on the keyboard. The chair should also be at a height where your thighs are parallel to the floor whilst your feet are flat on the ground or on a foot rest to allow optimal hip positioning. Sitting on a chair with no back support may cause you to curve your shoulders which may lead to strain on your muscles and joints.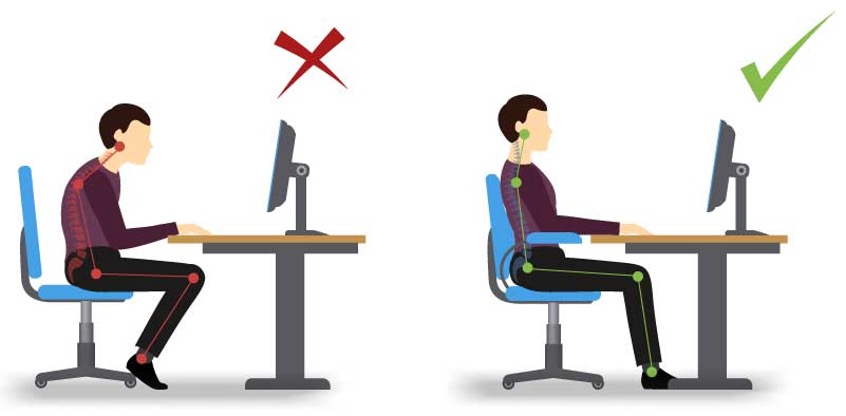 (Theatre Seat Store, 2021)
2. MOUSE & KEYBOARD
These items should be close to you whilst at your desk to ensure you do not have to overstretch. If using a laptop an external wireless keyboard may be best fitted to ensure it is closer to your body. Your wrists should be flat on the keyboard and not angled up to reduce the overuse of your forearm muscles which could cause wrist injuries. Remember to tuck in your elbows when you are typing on your keyboard. An external mouse may also be beneficial so you do not have to overextend to use the trackpad on your laptop.
3. MONITOR
For the best ergonomic positioning, the top of your screen whether it be a laptop or desktop should be just below eye level. The monitor should also be an arm's length away from your body.
4. POSTURE
Try not to lean to one side of your body and avoid slouching or leaning back in your chair when working. The optimal position is sitting up straight with your shoulders relaxed.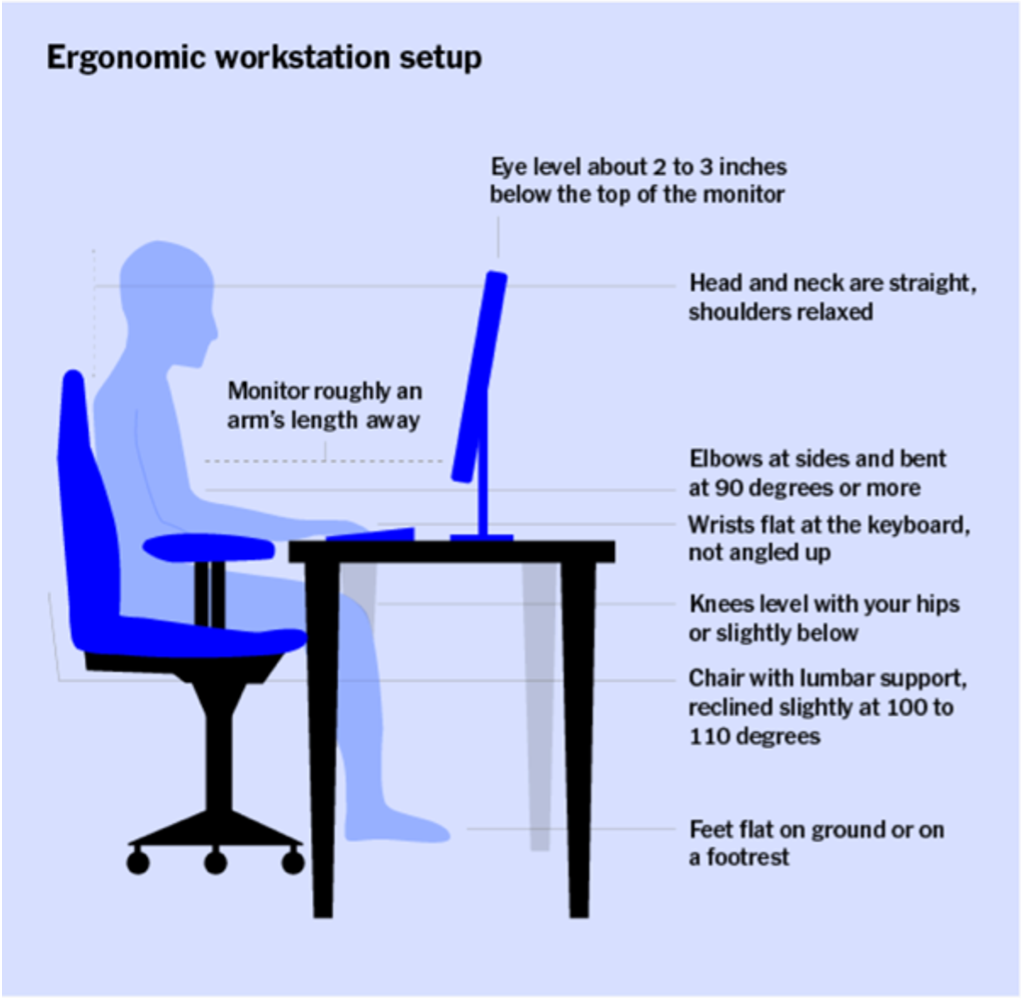 (Wirecutter, 2020)
5. TAKE REGULAR BREAKS
By standing up and moving around it allows your neck and back joints to have a break. A sedentary lifestyle increases chances of numerous conditions such as cardiovascular diseases, obesity, and diabetes. Walking and movement can also help alleviate stress and have a positive impact on your mental wellbeing.
Why not try Osteopathy Australia's 40:15:5 every hour
SIT for 40 mins
STAND for 15 mins
MOVE for 5 mins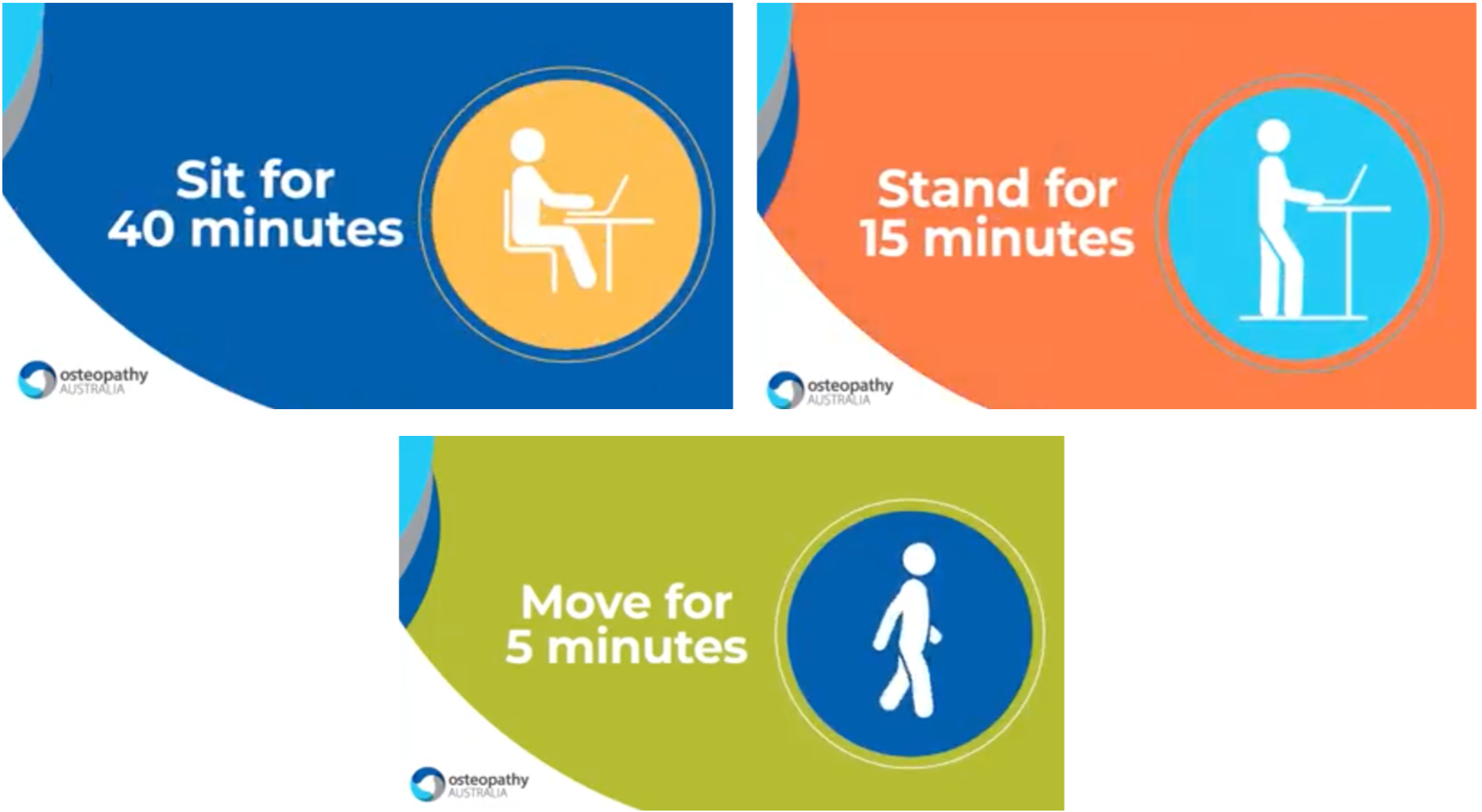 (Osteopathy Australia, 2021)
 WHAT WE CAN DO
As Osteopath's we can assess your ergonomic workstation and treat musculoskeletal concerns. Treatment methods may include soft tissue therapy, muscle energy techniques, articulation, dry needling, cupping, manipulations, mobility and stretching.
Please contact Strong and Stable on  9762 0976 or Book Online to organise your assessment and treatment plan.
References:
Davis, K., Kotowski, S., Daniel, D., Gerding, T., Naylor, J., & Syck, M. (2020). The Home Office: Ergonomic Lessons From the "New Normal". SAGE journals, 28(4), 4-10. https://doi.org/https://doi.org/10.1177/1064804620937907
Dubey, G., Tripathi, H., & Naqvi, Z. (2019). Ergonomics for Desk Job Workers -An Overview. vol 9, 257. https://www.researchgate.net/publication/334972044_Ergonomics_for_Desk_Job_Workers_-An_Overview
Heneghan, N. R., Lokhaug, S. M., Tyros, I., Longvastøl, S., & Rushton, A. (2020). Clinical reasoning framework for thoracic spine exercise prescription in sport: a systematic review and narrative synthesis. BMJ open sport & exercise medicine, 6(1), 713- 717. https://doi.org/10.1136/bmjsem-2019-000713
Louw, S., Makwela, S., Manas, L., Meyer, L., Terblanche, D., & Brink, Y. (2017). Effectiveness of exercise in office workers with neck pain: A systematic review and meta-analysis. The South African journal of physiotherapy, 73(1), 392-392. https://doi.org/10.4102/sajp.v73i1.392
van Niekerk, S.-M., Louw, Q. A., & Hillier, S. (2012). The effectiveness of a chair intervention in the workplace to reduce musculoskeletal symptoms. A systematic review. BMC musculoskeletal disorders, 13, 145-145. https://doi.org/10.1186/1471-2474-13-145
van Vledder, N., & Louw, Q. (2015). The effect of a workstation chair and computer screen height adjustment on neck and upper back musculoskeletal pain and sitting comfort in office workers. The South African journal of physiotherapy, 71(1), 279-279. https://doi.org/10.4102/sajp.v71i1.279